Because my brother flaked last weekend, today I went out with my mom, my brother, and my brother's girlfriend to celebrate my mom's birthday. We met up in Palo Alto at around 1:00 PM to start the day with a late lunch.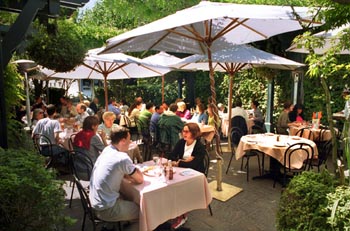 We wandered around downtown Palo Alto aimlessly, trying to figure out where to eat. We checked out Madison & Fifth, La Strada, Siam Palace, and University Café before deciding to eat at Empire Tap Room. It's sort of an upscale pub-cum-restaurant that's been a Palo Alto fixture for ages. Since it was a very nice day, we chose an outdoor table.
It was a very nice (late) lunch. I decided to pick from their brunch menu, and I had scrambled eggs with awesome lox, english muffins, fresh fruit, and hash browns (which I didn't eat). It was pretty good, though nothing to write home about. Before that, I had an appetizer of filet mignon carpaccio. I've been obsessed and in love with beef carpaccio ever since
Edu Manzano
made me taste it at his restaurant Fire & Rain many, many years ago. ETR's version was very good - the beef was slightly thicker than normal, and it was topped with mustard, arugula, freshly ground pepper, giant capers, and olive oil. Yum.
My mom had fried polenta with a shiitake mushroom sauce and my brother's girlfriend had fresh oysters on the half shell. Mom had an awesome pancetta pizza for her main course, while my brother had a New York strip steak and his girlfriend had a pork loin and eggplant sandwich. When the check came I was surprised when my brother took it and paid for lunch. I think it was the first time I've ever seen him do that at a nice restaurant. LOL.
We walked over to
Satura Cakes
for dessert, where I had a caramel mocha cake (heavenly), mom had a classic chocolate cake, and my brother's gf had a green apple crumble. The apple crumble was supposedly excellent, but I didn't get to taste it because they ate too quickly!
After eating we drove to the mall to take my mom shopping for a few clothes. I remembered how much I hate shopping with women. They take forever and look at too many things I have no interest in. After a few hours of torture, mom ended up with a jacket, a cashmere sweater, dress pants, jeans, a funky purple necklae, and a pair of boots. All were picked out by my brother's gf. It was the plan all along that we wouldn't let mom pick out stuff on her own, because we wanted to do a mini-makeover to change her is-she-a-bag-lady-or-is-she-just-naturally-frumpy look. Hahaha. I think it worked. The clothes were things she would never have picked on her own, but they looked good on her.
Hung out at the Palo Alto apartment for a bit, then I headed home. Checked my email, filled out a new online quiz, took the dog out for his migration, then watched some TV. Now, here I am. After this I will email my dad then go to bed.
Oh, I've decided not to buy a Macintosh PowerBook. I'm gonna buy a
Tempur-Pedic
bed instead.
Bedside reading:
An Inconvenient Truth
, by Al Gore.